The computer instrument captures and processes sound (in terms of pitch, intensity, time, timbre, texture and space), inventing a rich palette that fuses with the instrumental performance. A musician plays the instrument's parameters via mouse, keyboard, tablet, buttons, pedals, sliders and other controllers – such as a new interface based on video camera detection techniques. As the acoustic musicians play, the computer affects various transformations and other sounds, adding musical phrases to the collective performance.
Tom Mays created and performs his lap-top computer instrument built with Max/MSP/Jitter (Cycling74) and SoftVNS de David Rokeby. It is the result of years of development using real-time processing environments as applied to composition and performance.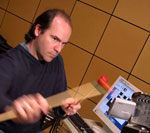 The musicians chosen for the project have all followed paths that involved classical training, contemporary music and improvisation. They are very active not only in the music scene, but in theater and dance, as well as being teachers in various conservatories and music schools. Each one strives for a close relationship with real-time processing and the enhanced expressivity that it offers their instrumental sound and performance.